Bocce News 2020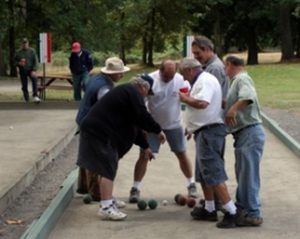 Caio Paesano Bocce Club Members and Friends!
Here are some important dates for the upcoming 2020 Season:
March 11th, 7:00PM Cedarville Lodge, League sign up. This is a Mandatory meeting for all Team Captains: All others welcome. All Dues need to be Paid by June 1st.
May 17th, 9:00AM, Pre-Season Meet & Greet Tournament, This will be a free tournament.
June 1st, 6:30PM, Monday Night League Starts
June 2nd, 6:30PM, Tuesday Night League Starts
July 11th, 8:30AM, Oregon vs Washington Invitational Tournament.
July 12th, 8:30AM, The Aldo Rossi 4 person Open Team Tournament.
August 23rd, 8:30AM, Festa Italiana 4 person Open Team Tournament.
August Date TBD, Gresham Ford 2 – Person Mixed Doubles.
League sign up will start early this spring so keep checking our website/member news here https://paesanobocceclub.com/member-news/ for the latest information.
Become a Paesano Bocce Club Supporter
There are many ways you can help support The Paesano Bocce Club. We are continueing to raise funds to finish the two new additional courts and then add a 100ft by 50ft building over the courts.
Many ways to contribute! Help support Bocce in Gresham.
To name a court it's $2500. Sign posted at end of court or large sign on fence. i. e.
Sponsor a single event! $1000 and get a banner for that event plus advertising. i.e.
Donate $1000 and get a smaller sign to hang on the fence! i. e. Metro Marine
Create your Legacy! Buy a paver for $100. These pavers are part of the walkway surrounding the courts.
A lot of ways to help support the Bocce Club. If you are interested in showing you support contact Mario or Larry at paesnobocceclub@gmail.com
Other Paesano Bocce Club Sponsors