2022 Paesano Bocce News: 
Ciao Paesano Bocce Club Members,
I'm getting pretty excited about the upcoming 2022 bocce season. We are in the midst of getting courts 3 & 4 completed with the new surface by May and ready for our Meet and Greet Tournament. There is still a lot  to be completed. The walkways will still be under construction but the courts will be playable
Our kick off registration meeting is Tuesday March 22nd.  We will review upcoming plans, tournaments, etc. I encourage you to come. Especially team captains to sign up your team. We have a lot of interest this year so if you want a particular night I would encourage you to attend. Also, I'm hopeful we will have our individual registration form available where you can just pay online. As always if you don't have a team and want to play let me, Brad or Rick know. We will do our best to find you a team. Note: It is very important that you communicate with Brad. He is our competition chairperson and setting up what night your teams plays, team rosters and schedules. 
Upcoming Dates: 
March 22nd, 7PMKick off registration meeting
May 8th, 10AM, (Weather Permitting) free open bocce. Invite friends, people that might be interested, or just come out and get the rust off!
May 22th, 10AM, (Weather Permitting) Meet and Greet Tournament and Festa Virtual Bocce Event. Il Sacco style. Come out for this free event. We will create teams and try to place novice players with experienced players. Free hot dog lunch provided.
June 6th, 7th & 8th, Summer Leagues Start. Games start at 6:30PM and end at 9PM. No frames start after 9PM unless games are tied.
June 29th, Paesano Bocce Club Singles Championship
July 9th, Northwest Invitational Championship. Oregon vs Washington
July 10th, 19th Annual Aldo Rossi Bocce Tournament
August 7th, 3rd Annual Gresham Ford Mixed Doubles Championship
August 21st, 29th Annual Festa Italiana Open Championship
Lastly, if there is an attorney in our Bocce family or if you know one that would work gratis. (or almost gratis) We would like to apply to the IRS as a non-profit sports club. I talked to a few bocce clubs this weekend in Las Vegas that are non profits.  This would greatly enhance our fundraising efforts getting our courts covered. 
a presto,
Mario 
Update: The Monday, Tuesday and Wednesday night leagues are filling up fast and we are expanding to Thursday nights. Get in touch with us today! Thursday night is wide open for teams! email Mario at paesanobocceclub.com, Rick Cervi at: rchabs23@hotmail.com, or Brad Cotton at: bradbocce@comcast.net
Bocce News 2021 & 2022
Ciao Paesano Bocce Club Members and Friends!
Paesano Bocce Club Hosted the Kaiser Permanente Retirees Organization!
For more information go to member news: https://paesanobocceclub.com/member-news/ 
For more Pictures go to the Gallery:  https://paesanobocceclub.com/gallery/
2021 League Finals, See who won, . . .  click here: https://paesanobocceclub.com/standings/
August 29th, Members Singles Championship! Who is the Number One individual singles Champ? 
The  Sixteen Brave Souls that came out Sunday to see who's #1
Congrats go to Tony Aiello!  You got bragging rights for a year! More results here!  https://paesanobocceclub.com/gallery/
August 22nd, 29th Annual Festa Italiana Bocce Tournament
Congratulation to "Due Famiglie and Doug" for winning the 29th Annual Festa Italiana Bocce Tournament! 2nd, Foster Farms and 3rd, Stugatz. 
August 8th, Gresham Ford Mixed Doubles Tournament
Hello Bocce Family! This past Sunday August 8th, the Paesano Bocce Club held their second annual "GRESHAM FORD's" Mixed Doubles Championships. It was a fantastic day of competition as 20 teams of men and women competed. It was long day as team finished off close to 8PM. Congratulations to Rick Cervi and Stephanie Kyle for taking the top prize. Thank you GRESHAM FORD for your sponsorship! Help support our sponsor. Go see then for great selection of new and used cars, service and great deals on tires! For more Pics click here: https://paesanobocceclub.com/gallery/
Congratulations to Rick Cervi and Stephanie Kyle
July 10th , Northwest Invitational Challenge Tournament, July 11th, 16th Annual Aldo Rossi Bocce Tournament. 
We had a fantastic Weekend of Bocce. ON Saturday we held the NW Challenge. Oregon vs Washington. We played Ryder Format. The was Doubles, Singles, Then Quads. WA won six in a row in doubles about to win 7 in a row but Butch and Cody came from behind to win 10-9 to stop the streak to end the Doubles . Paul Barasch at the time said that was a pivotal win and he was right as Oregon then won Singles 18-6 . Everybody won a match. So this was a total Oregon win, Thank you for refereeing , setting up , and taking down, and playing. Final Oregon 27, Washington 15.
On Sunday the 16th annual Aldo Rossi tournament was held. $1200 in prize money was at stake. 1st Place Due Famiglie and Doug, (Cody Mason, Mario Pompei, Doug Burchak, Butch Mason) 2nd Place, The Wonders, (Bob Sheffels, Jennifer Sheffels, Gail Denhert, Phil Ferrari), 3rd Place, Pallino or Bust, (Phil Schwyhart,
Brad Cotton
,
Rick Cervi
, Joachim Creten) 4th Place, The Herry's, (Pat Henry, Brian Henry, Amanda Henry, Anthony Singleton)
2021 Upcoming Tournaments.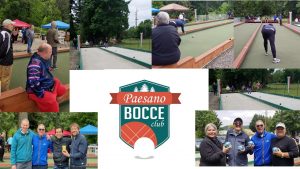 https://www.facebook.com/PaesanoBocceClub
Proposed Health and Safety Rules for 2021
Paesano Bocce Club (16 players in the area) We will only play on the two artificial surface courts.
We will play three game per night to 12 points per game
Game one will start at 6:30 PM, Warm ups at 6:20 PM
We will utilize 4 courts. Two Natural and Two Carpeted.
If using club balls separate by circles and squares
If using personal balls mark two ball with black marker
Only 1 player on the court at a time (in the Kitchen) next person up be ready.
Players must stay 6' feet apart following social distancing rules (bring your own lawn chair is encouraged)
Keep measurements to a minimum
Paesano Bocce Club will provide cleaners and disinfectants at each end
Pallino will be cleaned before each game
Masks are highly recommended
No sharing of food.
One person assigned to do all measurements for each game
One person assigned to change the scoreboard
Do not touch other balls. After the frame kick the balls back to the end.
Want to play Bocce?
There are many openings for teams.  Interested? Contact us, https://paesanobocceclub.com/contact-us/ 
Become a Paesano Bocce Club Supporter
There are many ways you can help support The Paesano Bocce Club. We are continuing to raise funds to finish the two new additional courts and then add a 100 ft by 50 ft building over the courts.
Many ways to contribute! Help support Bocce in Gresham.
Create your Legacy! Buy a paver for $100. These pavers are part of the walkway surrounding the courts.
BECOME A SPONSOR:
Sponsor a $500 sign and get the sign to be displayed around the fence with "Your Name or Business Name" 
Become a Tournament Sponsor for $1,000

Gresham Ford Mixed Doubles
Aldo Rossi Open
Fred Siri Challenge

Other Tournament Needing Sponsor

Club Paesano Singles Championship
Festa Italiana Open
NW Invitational Challenge (Oregon vs Washington)
West Coast Challenge (California vs Oregon/Washington)
Sponsor a court for $2500 and a get a larger banner to be displayed at the end of the court with "Your Name or Business Name"  
Sponsor the Building Cover for $5,000 it would be displayed on the Building "Your Name or Business Name" with a large sign visible from Springwater Trail, Powell Blvd and Walmart Parking lot.
A lot of ways to help support the Bocce Club. If you are interested in showing you support contact Mario or Larry at paesanobocceclub@gmail.com
Paesano Bocce Club Sponsors
Our Tournament Sponsors: